My mom & dad took a whole weekend away from tax season to come help us, and we really owe them BIG after this one. Some of you have seen Dad's plane in various stages of production, but it's up & flying now! They made it here in 50 minutes (yeah, 230 mph beats the drive!). I failed to get a picture of it from this weekend, but here's the plane from Dad's first flight back in October. It's a 2-seater, acrobatic RV 6 which he built over ~10 years in our garage, and then in a hanger out at Abilene Regional.
Saturday
(AM) My first garage sale. In my mind, people would calmly come and look through our stuff, noting that the size & price were marked. Not so much. In the light of early dawn, people swarmed our house. I appreciate intensity but the ferocious, focused Garage Salers were a bit scary. No complaints because I snuck away to host a wedding shower for most of it, and the rest of the crew ran the show. Here's basically how it played out:

Russ: (Captain of General Morale) He's demonstrating flying helicopter toys & crashing them into shoppers, putting pink cowboy hats (nevermind why I had one) on tough looking vaqueros, and auctioning off things in a half-Louisiana accent.

Me: (Head of Design & Display) I'm standing nervously in the garage, praying that nobody else haggles with me over 25 cents and frustrated with people making a mess.

Mom & Dad: (Finances) Mom's adding long lists of random cents and making change from her coat pockets. Dad's also doing Product Demonstration, in case any one was confused about the furniture or books.

The Crew
Product Demonstration
These are a few of my medical school sweethearts that I snuck away to see at Angie's shower. (L to R) Emily, Becky, Angie (bride-to-be!), Me, Leslie

And, just because I think it's fun (and people are always surprised), this is what these girls are going in to…Ear, Nose & Throat, Internal Medicine, General Surgery, Radiology, Neurosurgery.
Saturday night we CELEBRATED the new house with both sets of parents and our best friends Lauren & Drew. We went to work out the details with the builder. It's certainly more house that we need, but Russ & I are THRILLED about moving in here if everything works out.
Then we wined & dined at Popolos….and, of course, Starbucks.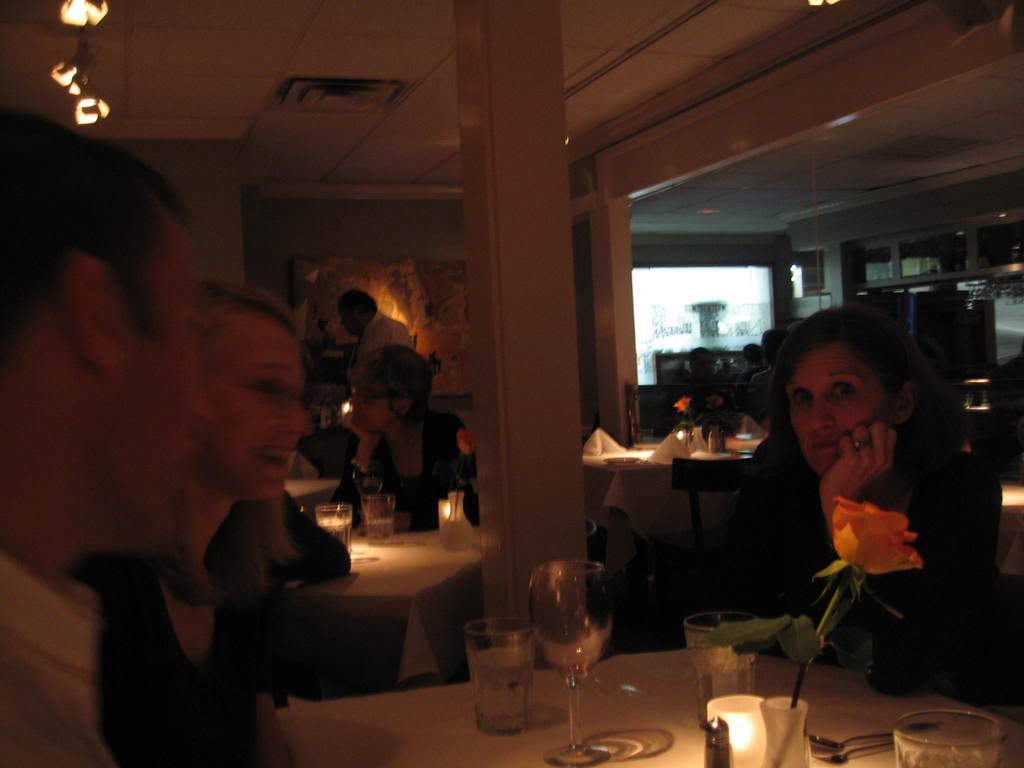 Sunday
PACKING. Are these T-shirts breeding in my closet? I should probably be able to get rid of a few of those Tri Delt T-shirts that were passdowns from Mandy & SB….but I can't seem to do it just yet. Russ did a 100 mile bikeride with one of his buddies (getting ready for the Ironman Arizona triathlon in April); he's been fighting with some chronic aches, but this sight made me laugh instead of sympathetic. I told him that he should be on the back of a cereal box with something that said, "Hey kids. See how many bandages you can find," with the answer upside down at the bottom.